Charlie, from
videoshadow.com
sent me a copy of this tool so I can review it for you guys here. I must say that I've been looking for youtube seo tool for a while now, as you can see in my
youtube seo
posts here, I was doing all the research manually, and this took a lot of time. The video shadow gathered better, deeper and more organized analytics in few seconds than those that I created manually in an hour.
The Importance of Having The Right Keywords
Most internet gurus will agree keyword research is the most important thing you need to focus on when starting an online business. You can do everything else right, but if you fail here, you can end up wasting your time to create videos that don't have an audience or videos that have too much competition, which means that the fruits from your efforts would be minimal or non existent.
However when you create a video for the right keyword the views and the results come naturally.
Video Shadow finds keyword opportunities for ranking videos in Google
Video is the next big thing. People prefer video over text and Google knows this. If you haven't noticed Google started showing videos in the search results and you can often see a video from youtube ranking on the first position for some search terms. Actually, It seems as if Google tries to include at least one or a few videos in the search results. However often it cant find directly related videos for some pretty big and competitive keywords and doesn't have anything to show, in this case Google would give a lot of ranking priority to the first video that is created for this keyword.
If you find one of these keywords and create that video yourself and do some basic optimization you should easily rank in the first page and get a lot of views with minimal effort.
I used the video shadow to find non competitive keywords with over 10.000 searches per month. And the only thing I need to do to claim these searches is to create a video, optimize the title, tags and description and get 10 to 15 good backlinks.
Just watch this video and see how I use the video shadow to find a good keyword opportunity:
A Few tips about the research:
Pick keywords with more than 2 words
Check the second page of Google manually, see if you actually have some competition
Check the competition for the same keyword on youtube, see why those videos are not on the first page of Google. Make sure you check the back-link information for those keywords.
Video Shadow Can Analyze The Competition in YouTube
You can use this tool to find non competitive keywords in the youtube search engine. After your research you can create well optimized videos for these golden keywords or use them in the tags and descriptions of your already established but related videos.
You just type in your keyword and the tool will then pull all the details about the first 50 videos found in the search results, including : Video Titles, Views, Favorites, Comments, Tags and Descriptions, Upload Date and Channel name.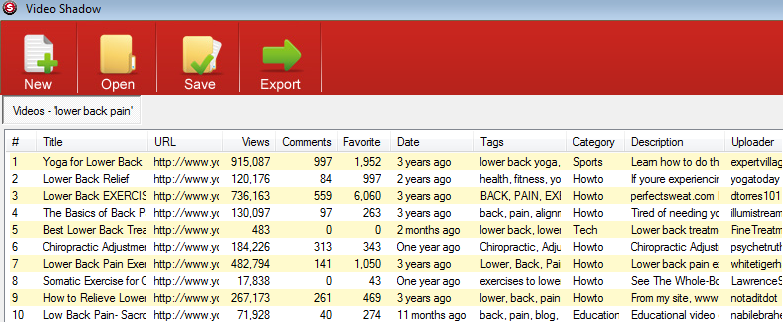 There are also additional tools that allow you to check the back-link data for the competing video, get more information about the uploader of the video and see the youtube video statistics.
note: The back-link data check is not currently working in this version but I think that Charlie will fix this in the next update. In the meantime you can use the SEO toolbar from seo book and get the back-link information yourself.
In this review I only talk about the most important functions but there are additional functions and things you can do with the video shadow,
Additional Functions:
You can use it to spy on your competitors and steal their tags
Measure the strength of the channels of your competitors
Check and compare the video description of the top videos
See all the titles and quickly learn what you need to do to stand out
Check your video rank for certain keywords
Money Back Guarantee

The video shadow doesn't have a trial, but it has a 60 day full money back guarantee that you can use as a test period. If you don't like it or it doesn't meet your expectations you can always return it and get your money back, however I don't think that you will actually need to do this because it is really awesome.
I hope that this video shadow review has helped you and if you have some comments or question you want to ask about this tool, feel free to contribute below.

Incoming search terms:
video shadow review
shadowyoutoutube